Welcome to the website of the Royal Anglian Regiment Museum!
Our aim is 'To tell the story of the Regiment and its people'.
The Royal Anglian Regiment is the British Army's regiment of infantry which covers the ten counties of Norfolk, Suffolk, Cambridgeshire, Bedfordshire, Hertfordshire, Essex, Lincolnshire, Leicestershire, Northamptonshire and Rutland. Each of these counties had its own regiment at one time or another, some tracing their history back to 1685. With the size of the Army reducing in the mid 20th Century various amalgamations took place to form the 1st East Anglian Regiment (1959), the 2nd East Anglian Regiment (1960), and the 3rd East Anglian Regiment (1958). These three regiments, together with the Royal Leicestershire Regiment, were in turn amalgamated to form the Royal Anglian Regiment on 1 September 1964.
The Museum, which is located within the Imperial War Museum Duxford, covers the history of the three East Anglian Regiments from 1958/59/60 and the Royal Anglian Regiment from 1964. Details of the museums relevant to our forebear regiments can be found on the 'Forebear Regiments' page.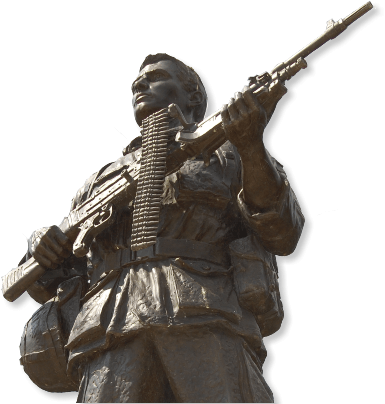 Visitor Information
Admission
Admission to the Museum is free after paying to enter the IWM Duxford complex, click here for details of charges.
There is no charge for admission to the IWM Duxford complex on Remembrance Sunday each year for serving members of the Regiment, veterans, and their families.
Organised parties from the Royal Anglian Regiment (regulars, reservists, cadets, veterans, families), and close relatives of those commemorated on the Royal Anglian Regiment Memorial, will be granted free access to the IWM Duxford complex, except on event days, providing they contact the Curator at least one week in advance.
Opening Hours
IWM Duxford is open every Wednesday to Sunday except for school holidays when it is open 7 days a week.
Hours are 1000 to 1800 in summer, 1000 to 1600 in winter.
(Summer hours operate from 29 March 2020.)
The Museum Office in Hangar 4 is manned from 0900 to 1700 Wednesday to Friday except for school holidays when it is manned Monday to Friday.
Directions
Click here to find out how to get to IWM Duxford.
The Museum is located inside the Land Warfare Hall. After passing through the entrance to the building take the steps on the left down to the lower level and the entrance to the Museum is almost directly in front of you.


Imperial War Museum Duxford
IWM Duxford is a wonderful museum site. Although best known for its 180 historic aircraft and the AirSpace and American Air Museum collections, its acres of indoor exhibition space include one of the finest collections of tanks and military vehicles in the country. The Royal Anglian Museum is set at the heart of that collection in the Land Warfare Hall.