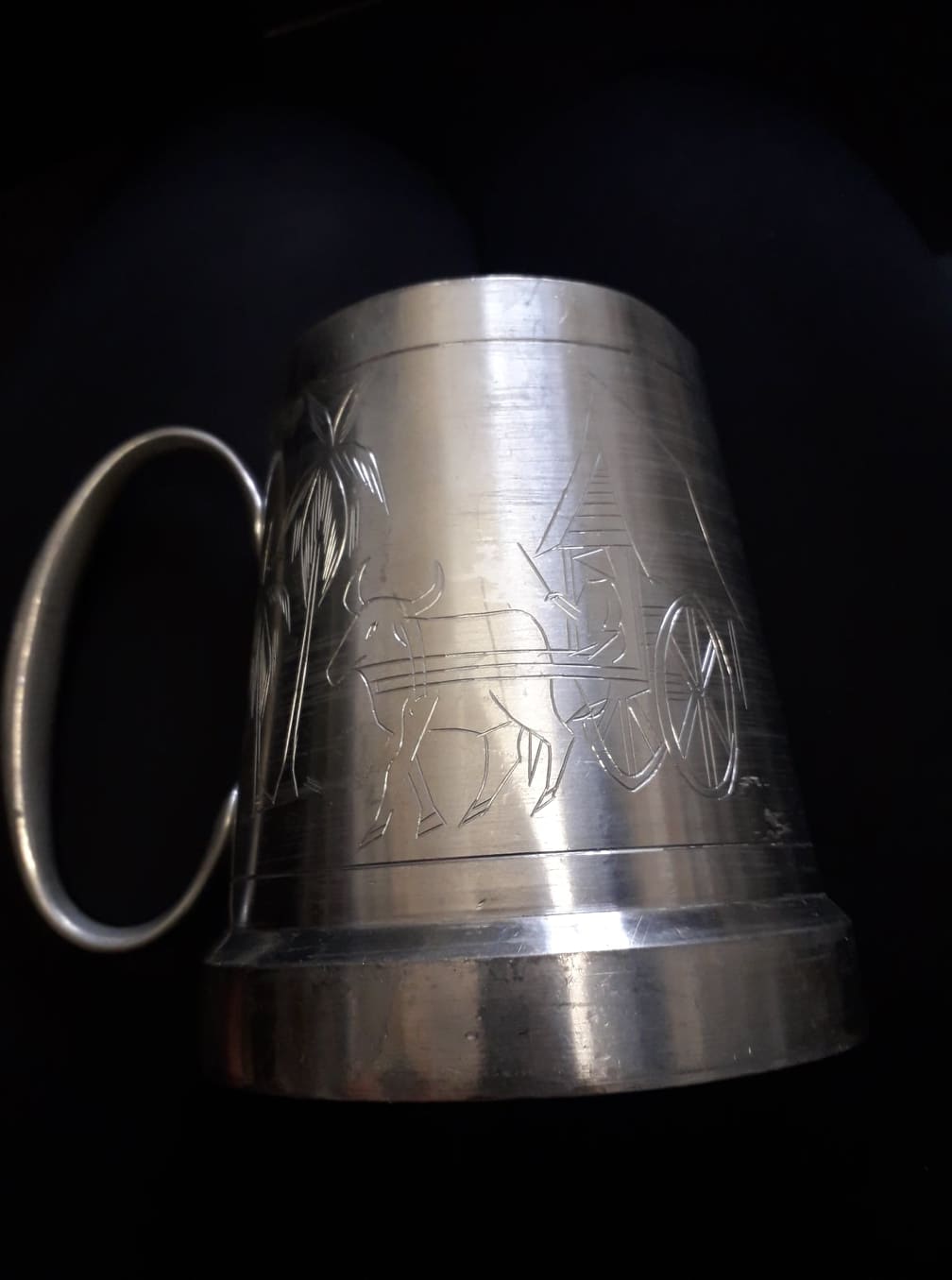 New objects for the museum come in all shapes and sizes and arrive at the museum in all different ways. Mostly likely people donate things from their service or their loved ones, or the Regiment itself gives us items. But sometime we find things in charity shops, and even Ebay.
These next two items were found on Ebay for about £8. As one of our trustees tasks himself with typing in certain search terms every so often to make sure we don't miss out on items that may be great for the Regiment, he recently came across these two pewter tankards. After reading the description we bought them, and found out a lovely story about Col John Murray Petit, who they had belonged to.
Col JM Petit OBE Col John Murray Petit was mobilised on 1 September 1939 and in May 1940 he was awarded an Emergency Commission in the Royal Norfolk Regiment. He joined the 2nd Battalion which was reforming at Bradford having been evacuated from Dunkirk. In 1941 he was posted to Headquarters 4 Infantry Brigade as Intelligence Officer and in 1944 he became GS03 Operations in the same Headquarters. A posting as Brigade Major in Headquarters 6th Infantry Brigade followed. After successfully crossing the Irrawaddy River against well-defended Japanese positions it was decided that the Brigade should be airlifted back into India to prepare for a sea assault on Rangoon. By the time the convoy arrived off Rangoon it was found that the enemy had fled. A few weeks later the Japanese surrendered and the war came to an end. He was awarded the MBE for his services as Brigade Major.
In 1946 he was granted a Regular Commission and was posted to the Second Battalion in India. Postings to the War Office and Headquarters AA Command followed before he joined the First Battalion in Korea as Battle Adjutant followed by OC Support Company. After a tour as GS02 in the Military Operations Directorate he returned to the First Battalion as a company commander in Cyprus and BAOR. In 1958 he was appointed to command the Regimental Depot at Norwich. On amalgamation of the Royal Norfolk Regiment and the Suffolk Regiment he became the first commander of the newly created joint Depot at Bury St Edmunds.
In 1960 he was posted to the Army Staff College as DAA/QMG and then, on promotion, he was posted as GSO1 in Headquarters Combined Operations. In 1965 he joined the Headquarters of the Director Borneo Operations as GSO1 Intelligence. On completion of this tour he was awarded the OBE.
He returned to the UK on promotion to Colonel in 1967 and appointments with Defence Intelligence Staff and then the Cabinet Office as Deputy Head of the Joint Intelligence Staff and Deputy Secretary to the Joint Intelligence Committee.
He retired from the army in 1974 when he took up an RO1 post in the Cabinet Office as Duty Intelligence Officer. He finally retired in 1984 and died on 3 July 2006, three weeks after his 87th birthday.
The above story of his service was an obituary written for our Castle, however it is something that made the find of these tankards all the more special. Col Petit was also the only man with a Royal Anglian cap badge we know of that received an operational award for Borneo. There were others but they were still cap badged at Leicester Tigers at the time of the award.
It is always nice to see something that may have been overlooked end up in the museum and to unearth an incredible story to go with it.