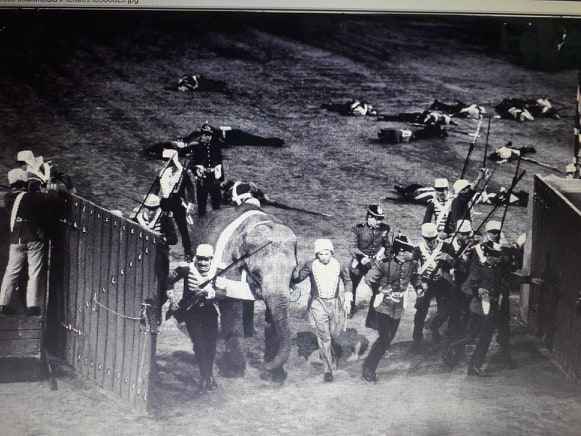 The battle of Sobraon.
While in lockdown, I have been going through our collections database and cleaning up some entries, and it reminded me of one of my favourite stories about Sobraon as I stumbled across a picture that was featured in Aden to Afghanistan, and the story behind it.
This battle was a famous 10th of Foot victory in 1846 and the 10th of February is now a day of celebration for the 2nd Battalion. There is a Sobraon Barracks in Lincoln, which was the depot of the Lincolnshire Regiment and many references to this battle throughout the history of the Regiment. The Regimental magazine is dotted with Sobraon dinners, a Sobraon sports day being played in the snow in 1979, a 1988 Sobraon weekend with the Lincolnshire Association Branch and many other reunions and celebrations.
Moreover, the event that drew me to write about this day was the story behind the picture above, the re-enactment of the Battle of Sobraon that the Poachers held at the Berlin Tattoo in 1979. For this event, they had proposed to do a large-scale re-enactment complete with fortifications, huge artillery pieces and of course it wouldn't be complete without, well, elephants! The rehearsals coming up to the event were done with the elephants to make sure they knew how to perform on the day. However, the lead elephant, whose name was Maureen, decided that she didn't want to play along anymore once one of the siege guns was half-secured to her!
Maureen took off, cannon bouncing along behind her for the trees, but despite her best efforts was eventually cornered but only after smashing the cannon on a tree in her escape! The day itself went over a treat in the end but I'm sure anyone who saw that rehearsal is still chuckling about it!