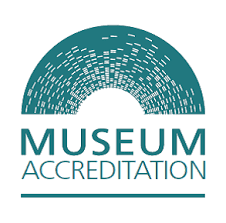 There are lots of different aspects to running a museum, one being accreditation, which is given by Arts Council England. Its aim is to make sure a museum is doing things in accordance to best practice, and it also allows the museum to be seen at being a higher standard. Accredited museums are more likely to get loans from other museums as well as grants. A part of this accreditation is the qualifications of the Curator. I am supposed to have a Masters degree in Museum Studies or a Museums Association equivalent, which I do not. So I therefore need a mentor to satisfy this requirement.
All of this background information leads to the reason I am writing this post. I have begun a Master qualification. As part of my professional development the trustees have suggested I undertake this, so as of the beginning of October, I have begun on a two year, part time, long distance learning Masters at University of Leicester.
Reflecting on these first months, I am both anxious and excited. Excited to learn something new, grow in my career and be challenged, but also a bit worried as I have been out of academia for over a decade, and I have never done any formal learning in an English school system. Nevertheless I will do my best and never stop asking questions if I need to so I can guarantee I am completing work to the best standard and in the format that is required.
I am sure there will be moments that I may want to tear that my hair out, but I am certain that this will be a very worthwhile experience!